News Details
Printed table cloth China
Author: ZSTAR FLAG Date: 2020/10/24 11:55:06
Custom printed table cloth comes with their fabric back wall counterpart is a great popular choice for companies marketing their goods and services at trade shows and other exhibitions.
Event table covers also called custom table throw that allow for seamless transitions between one exhibition and the next. The fitted table cloth are easy to take with you and do not require cumbersome attachment clips or accessories.
Event table cover drapes the top and sides of the table and is cut with rounded corners to give you a finished look. Event spandex table cloth was made of hemmed 4 edges and rounded corners; this prevents the corners from draping on the floor.Event spandex table cover with a logo can be a deliberate decision on your part.
Full color printed table covers to fit both 6' and 8' long display tables. 4-color process- dye sublimation imagery on table cover front panel and you can choose stock color for the top, back, and side panels.
Item No: Custom table cove 01
Material: Polyester, satin, stretch, spandex
Cover size: 4 feet, 6 feet, 8 feet, custom size
Finishing: silk screen print, digital print, dye sublimation print
Weight: 0.5~1KG
Packing: PP bag, carton box
Usage: display, trade show, event

http://www.flagbannerchina.com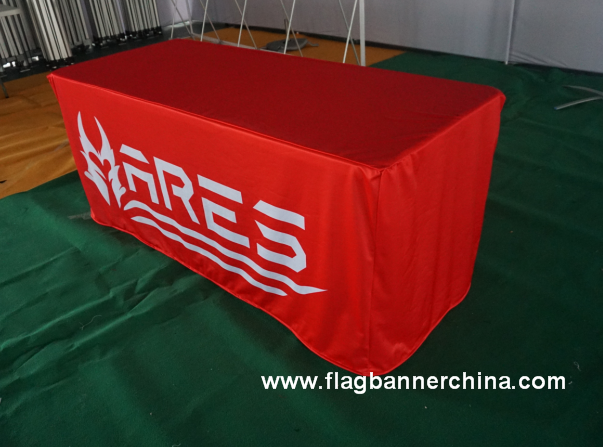 2020-10-23
Products Catagories
News & Events
Contact Information
Ningbo Zstar Advertising Equipments CO., Ltd
Add: 5-519 Xinghewan , Yinfeng Road , Haishu District, Ningbo , Zhejiang, China
Tel.: 0086-574-87434681
Fax: 0086-574-87434685
Email: zstardisplay@qq.com
Skype: andygao82
Web: http://www.flagbannermaker.com