News Details
Feather flying banner
Author: ZSTAR FLAG Date: 2017-7-2 22:51:00
Feather flag kit
can widely used for exhibitions, advertisement shows, exhibitions and other places. Custom
Flying banner
has a feather like shape, and is also called a feather flag because of its curved shape.
5m feather flag
looks similar to feathers, regardless of wind or wind, the flag surface can be kept flat and fully displayed. At the same time, the event feather flag is more attractive to the eye, to the effect of the exhibition, is the characteristics of this flag, and because of this, the flag is very popular in foreign countries.
You can choose two kinds different poles in carbon and aluminum rod towing mast design, easy to carry, inserted section design, quick installation.
At present, there are tow different models of custom
printed
Feather flags
in domestic market sales, mainly for outdoor events,space activities, auto shop promotion. As a new high-end products, gradually replacing the traditional feather flags. Meanwhile, in order to ensure publicity, the
event feather flag
is recommended to choose the right base, such as loose sand or grass, with an insert base.
Item No: Custom feather flag 01
Material: 110 polyester fabrics
Side: single side, double sides
Finishing: dye sublimation printing, digital printing
G.W: 4.0 KGS
Graphic size: 2m 3m, 4m, 5m
Packing: 125x25X25CM/5PCS/ 1carton
Base choices: cross base, plate base, spike case
Parts: banner, pole, base, water bag, carry bag
http://www.flagbannerchina.com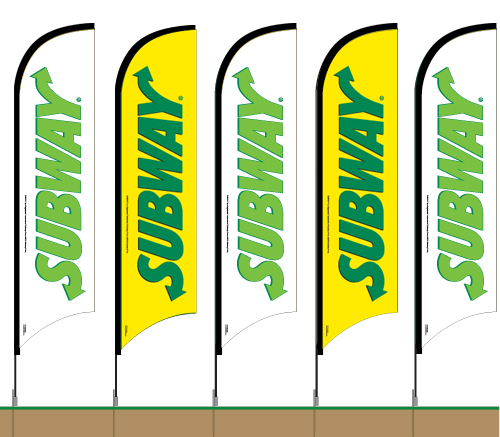 Subway feather flag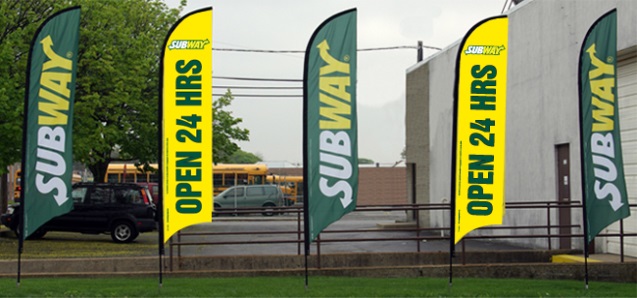 Feather Flag banner

2017-7-3



Products Catagories
News & Events
Contact Information
Ningbo Zstar Advertising Equipments CO., Ltd
Add: 5-519 Xinghewan , Yinfeng Road , Haishu District, Ningbo , Zhejiang, China
Tel.: 0086-574-87434681
Fax: 0086-574-87434685
Email: zstardisplay@qq.com
Skype: andygao82
Web: http://www.flagbannermaker.com